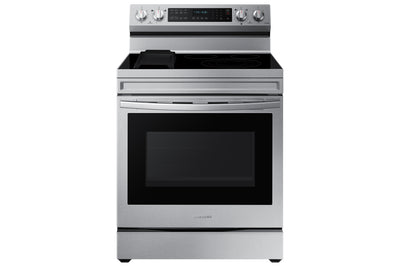 Samsung Stainless Steel Freestanding Electric True Convection Range with Air Fry and Wi-Fi (6.3 Cu.Ft) - NE63A6711SS/AC
Product Dimensions: Depth: 26.5", Height: 46.5", Width: 30",
Give your kitchen a modern look. The oven's frame is made of stainless steel with flat and narrow bezels to keep the oven looking sleek and stylish while the solid metal edges provide added durability.
Product Dimensions: Depth: 26.5", Height: 46.5", Width: 30",
Unique Features
Enjoy better fried food with the Air Fry feature that combines a special tray with hot air circulation that envelops food. It's the ideal way to cook fried food as it eliminates excess fat, but everything is still crispy and brown outside and juicy inside.
Aluminum Griddle - Enjoy quick and even cooking, searing and sautéing on an Aluminum Griddle. It's lightweight and easy to carry yet durable and an excellent heat conductor. The surface prevents food from sticking, so it's easy to clean.
True Convection - Save time and cook food more evenly with a True Convection system. A heated fan distributes heat all around the oven and keeps the temperature constant so dishes are cooked quickly and thoroughly.
3.0kWh Fast Boil with Triple Ring Flexible Cooktop (6"/9"/12") - Cook dishes quickly and evenly using the powerful heat and precise control of the 3.0kW Triple Ring Flexible Cooktop. It can rapidly go to a high heat for searing meat, and boiling water in a flash or turn it down to a true simmer.
Wi-Fi Connectivity & Voice Control - Save time and do more with Wi-Fi Connectivity. Control the oven with your voice using a voice assistant¹, such as Samsung Bixby, Amazon Alexa or Google Assistant². Or simply monitor and control the oven using the SmartThings App³.
Capacity: 6.3 Cu. Ft.
Care Instructions: Refer to Manufacturer Use & Care Guide
Finish: Stainless Steel
MPN: NE63A6711SS/AC
Product Details:
Air Fry (tray included)
SmartThings
Steam Clean
Large Capacity Oven
Anti Finger Coating
Bridge Element with Aluminum Griddle ( included)
UPC: 887276509495
Warranty: One (1) Year Parts and Labour
Weight: 163.8 lbs
Controls:
Cooktop Control Type: Mechanical Knob
Oven Control Type: Membrane + Film Touch (Numeric)
Display: LED Display
Smart Function: SmartThings
Certified Sabbath Mode: Yes
Cooktop Element Burners:
Left Front - 7" 1800/2600w
Left Rear - 7" 1800w
Right Front: 6" / 9"/12" - 3000w
Right Rear: 6" - 1200w
Centre (Warming Zone): Warm Zone (100w)
Cooktop Features:
3.0kWh Fast Boil with Flexible Cooktop (6"/9"/12")
5 elements
Warming Center
Bridge Element with Aluminum Griddle ( included)
Oven Elements:
Broiler Element Power: 3000W
Bake Element Power: 4200W
Convection Element: True Convection
Oven Features:
Air Fry
SmartThings
Steam Clean
Large Capacity Oven
True Convection