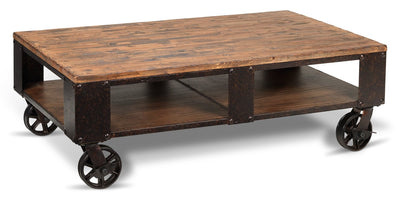 Pinebrook Coffee Table - Distressed Natural Pine
Product Dimensions: Height: 17", Length: 52", Width: 32",
Urban Remix. Rustic styling and industrial flavour converge in the Pinebrook coffee table. Iron legs, riveted details and oversized casters give the design an urban edge, while the distressed wood brings modern country aesthetics to the forefront. The overall effect is strikingly unique — and certainly enviable. Customer assembly required.
Product Dimensions: Height: 17", Length: 52", Width: 32",
Unique Features
Enhanced by a textured finish, the metal components provide sturdy structural support.
With its stippled details and strong variations in the pine, the distressed top delivers distinct character.
Open lower shelving keeps items within easy reach.
Industrial-inspired wheels provide form and function, and safety locks offer practicality.
Care Instructions: Wipe with a soft, damp cloth; use absolutely no chemicals.
Construction: Customer assembly is required.
Finish: Distressed Natural Pine
Origin: Imported from Asia.
Style: Casual Contemporary
Warranty: One-year manufacturer's warranty against defects in product and workmanship.