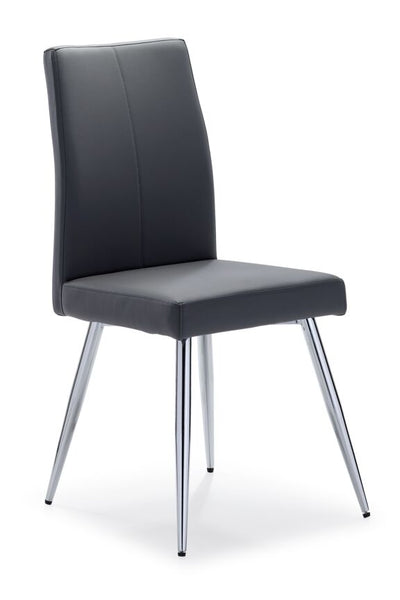 Lydia Dining Chair - Grey, Chrome
Product Dimensions: Depth: 19", Height: 36", Width: 17",
A subdued yet evocative piece, the Lydia Dining Chair offers a modern-retro aesthetic whose timeless design allows it to complement a variety of décor. The simple, smooth grey fabric harmonizes with the graceful chrome legs to provide a classic minimalist charm. The high back frame gives you plenty of room to lean back and get comfy. And the soft cushion supports you as you relax and enjoy delicious meals alongside the people who matter most. The casual design emphasizes comfort and compatibility, and the steel frame construction ensures durability and exceptional strength. The stable base will sustain this chair through many memorable gatherings, so you'll never have to worry about the design going out of style or conflicting with additions.
Product Dimensions: Depth: 19", Height: 36", Width: 17",
Unique Features
Modern, clean, stylish design that is visually appealing and attractively pairs with any décor of a home.
Very comfortable, sits well and comfortable while eating.
250lbs maximum weight capacity.
Some assembly required.
Care Instructions: Wipe clean with a damp cloth.
Configuration: Chrome metal base
Construction: Steel frame construction with tight and secure welds for exceptional strength.
Finish: Grey, Chrome
Origin: Imported from Asia
Style: Modern
Warranty: One-year warranty against manufacturer defects and workmanship.
Weight: 25 lbs