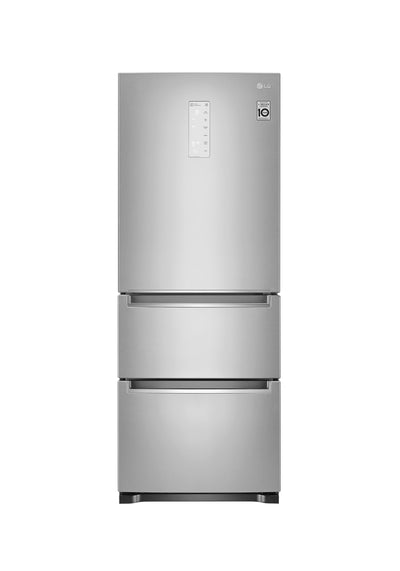 LG Platinum Silver 27" Specialty Food (Kimchi & Sushi) Three-Door Refrigerator with Convertible Freezer/Fridge Main Compartment (11.7 Cu.Ft) - LRKNS1205V
Product Dimensions: Depth: 29", Height: 71", Width: 26.25",
Product Dimensions: Depth: 29", Height: 71", Width: 26.25",
Unique Features
Specialty Food Cooling - Each storage area has individual temperature control to provide customized preservation for various types of items such as meat and cheese, wine and beer, and pickled foods like, Kimchi.
Freshness Guard Covers - Keep cold air in the fridge areas that are frequently opened. Freshness guard covers reduce cold air loss when users open the two top doors.
Fresh Lock Covers - Maintain constant temperature and humidity levels. The lattice design on the underside of the cover helps maintain high humidity.
Unique Storage Bins - 10 air-tight bin compartments allow for organized storage of food. Providing approximately 127 liters of storage capacity, the unique bin design locks in food freshness and conceals odours.
Reduce Fridge Odours with Fresh Air Filter - Minimise refrigerator odours with this air filtration system. A fan actively forces air through the carbon deodoriser and re-circulates it back across the shelves.
Capacity: 11.7 Cu. Ft.
Care Instructions: Follow directions in use and care manual
Finish: Platinum Silver
MPN: LRKNS1205V
UPC: 048231807746
Warranty: 1 year parts and labour; 7 years parts on sealed system; 10 years parts on compressor
Weight: 227 lbs
Convenience Features:
Some Compartments Convertible to Freezer
Available Options: Fermentation Mode, Normal fermentation, Kimchi+ fermentation, Storage Mode, Produce & Meat/Fish
Temperature Sensors: 6
Freshness Guard Covers
Fresh Air Filters: 3
Multi-Air Flow™ System
Inverter Linear Compressor
Fresh Lock Covers
Hidden Hinges
Pocket Handles
Surface: Smooth
ThinQ® Technology
Freezer Capacity: 6.6
Refrigerator Capacity: 5.1
Refrigerator Features:
No. of Airtight Containers: 10
Temperature Control Pantry: 127 Liter
No. of Shelves: 3
Ceiling LED Light