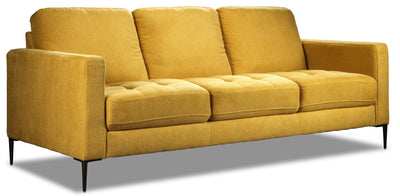 Leanne Sofa - Yellow
Product Dimensions: Depth: 36.75", Height: 33.5", Width: 81.5",
Learn About Leanne – What's Leanne's deal? Well, the Leanne's classic design means it effortlessly fits in with any décor. Its distinct colour makes it hard to miss, and its subtly stitched cushion makes it a unique addition to any room. Plus, it's soft upholstery and subtle tuft seating make it a day well spent on the couch. So, what's Leanne's deal? Fitting right into your living room.
Product Dimensions: Depth: 36.75", Height: 33.5", Width: 81.5",
Unique Features
Classic design with thin tuxedo style arms characterized by clean-lined rectangular shape.
Subtle tuft seating cushions.
Long metal legs adds a clean look to the sofa.
Padded outside backs and arms to maintain shape.
Care Instructions: Clean with damp cloth, do not use solvent or any abrasive products.
Construction: Kiln-dried hardwood and plywood.
Fabric Content: 95% Polyester, 5% Nylon
Finish: Yellow
Origin: Imported from Asia
Style: Contemporary
Warranty: One-year warranty against manufacture defects.
Cushions: 1.8lb density foam.
Seating Springs: Sinuous S-wire springs.