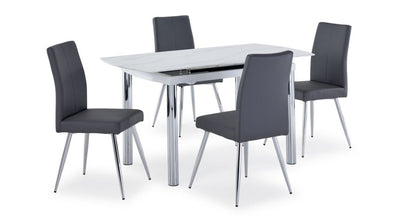 Layla 5-Piece Dining Set - Faux Marble, Chrome
Futuristic and graceful, the Layla 5 Piece Extendable Dining Set blends a clean, minimalist appeal with a sleek design. Combining the stylish Fino Extendable Faux Marble Dining Table with the classic design of the Lydia Dining Chair, this versatile dining set will set the stage for lively gatherings, and it'll look great while doing it. The Fino Extendable Dining Table's bold lines create a modern-retro aesthetic that's both creative and appealing. Mixing faux marble and chrome, the Fino brings a futuristic touch of elegance that's as functional as it is stunning thanks to the self-storing leaf. The Lydia Dining Chair's simple, smooth grey fabric harmonizes with the graceful chrome legs to provide a classic minimalist charm. The high back frame gives you plenty of room to lean back and get comfy. And the soft cushion supports you as you relax and enjoy delicious meals alongside the people who matter most.
Unique Features
This table design has a self-storing leaf. When you need to use it at its full size capacity, gently pull open the table until you hear a "click" sound and push the table together. Table extends to 58.5 inches when the leaf is in use.
This table can easily accommodate 6 - 8 people when the extension leaf is open.
A modern, clean, stylish design that pairs well with any décor in your home.
Very comfortable, sits well and is comfortable while in use.
250lbs maximum weight capacity. Some assembly required.
Care Instructions: Rectangular glass top can be cleaned with a glass cleaner and a soft cloth.
Use a dry cloth to clean the chrome table legs.
Construction: Tempered 10mm Faux Marble Glass Top.
Metal Chrome Table Legs.
Finish: Faux Marble
Origin: Imported from Asia
Package includes: Glass Table Top, Chrome Legs, 4 Grey Dining Chairs
Style: Modern
Warranty: One-year warranty against manufacturer defects and workmanship.
Weight: 190 lbs
Number Of Seats: 4 Seats