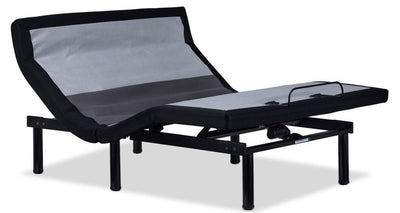 L2 Motion Ultra Queen Adjustable Base
Product Dimensions: Height: 14", Length: 79", Width: 59",
Complete Comfort. Experience the absolute best in adaptable comfort. With quadruple motors, you'll have full range of your head, neck, lumbar and foot articulation. Not to mention, it has a dual massage feature with varying intensity to make sure you get the complete relaxation experience - any time you want, from the comfort of your own home. And all of this can be controlled with the wireless, backlit controller or the user-friendly smart phone app, making it easier than ever to find the perfect position for optimal comfort. Plus, with dual USB ports, this base is all about catering to your convenience and comfort.
Product Dimensions: Height: 14", Length: 79", Width: 59",
Unique Features
Foldable design with half the box size of comparable bases.
Quadruple motor for heads,foot, lumbar, and neck articulation.
Dual massage with variable intensity helps you unwind in the comfort of your own home, while the dual USB port provides the ultimate in convenience for USB devices.
Can be controlled by a wireless LCD hand controller or by smartphone app on iOS & Android phones.
Power Outage Protection: if electrical power is lost, the base can be brought to a flat position by utilizing the battery-operated power-down feature.
Lift capacity - 650lbs
Construction: Foldable Design
Finish: Black
Origin: Made in Vietnam
Warranty: 3 Year Manufacturer Warranty
Weight: 174.98 lbs