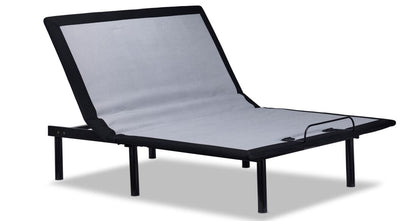 L2 Motion King Adjustable Base
Product Dimensions: Height: 14", Length: 79", Width: 75",
New Comfort Levels. Discover the comfort you've been missing from your mattresses with the L2 Motion Adjustable Base. With heads-up articulation, this base is a perfect for anyone who wants to take their rest up a notch. Just lay back and use the wired, backlit controller and find your dream sleep position.
Product Dimensions: Height: 14", Length: 79", Width: 75",
Unique Features
Foldable design with half the box size of comparable bases.
Single motor for heads-up articulation.
Can be controlled by a wired, backlit hand controller.
Power Outage Protection: if electrical power is lost, the base can be brought to a flat position by utilizing the battery-operated power-down feature.
Lift capacity - 650lbs
Construction: Foldable Design
Finish: Black
Origin: Made in Vietnam
Warranty: 3 Year Manufacturer Warranty
Weight: 140.18 lbs