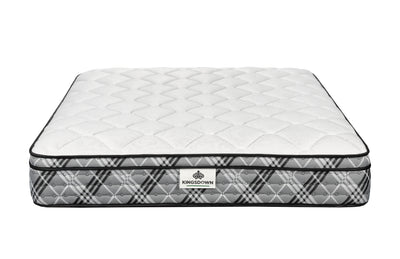 Kingsdown Kaplan Firm King Mattress
Product Dimensions: Depth: 79", Height: 10.5", Width: 76",
Strong Sleep Support. Discover true support with the Kaplan Mattress. The ideal mattress for those of us that need that extra support to provide pressure relief at night. The Kaplan features firm foam that conforms to the body and reduces pressure points in the body in order to help you experience a more satisfying night's sleep. The plush micro gel helps to dissipate heat from the body to avoid those mid-night sweats that wake you from your sleep. The Kaplan provides the support that you need to take your sleep to the next level.
Product Dimensions: Depth: 79", Height: 10.5", Width: 76",
Unique Features
Surface fabric has an 'Anti-Microbial' treatment. Helps promote a Fresh, Clean and Odor Free surface fabric for a fresher night's sleep.
Natural Wool has been added to luxuriously soft Hollo fibre to help airflow and temperature regulation.
Micro-Gel is found in the top portion of the mattress. This specialized foam has added cooling gel to promote a fresh and more comfortable nights' sleep.
Convoluted Comfort foam provides additional pressure relieving comfort that will minimize tossing and turning.
The continuous coil support system provides a uniform supportive sleeping surface with the added benefit of a reinforced edge to extend the sleeping surface from side to side.
Care Instructions: Refer to warranty card provided
Proper support and mattress protector recommended
Configuration: Mattress Only
Construction: Euro Top Mattres with 889 continuous coil support
Finish: White Panel With Grey And Black Plaid Border
Origin: Made in Canada
Other Dimension: All sizes are approximate. There is a tolerance of plus or minus 1"
Product Details:
Anti- Microbial Protection
22 oz. Wool & Hollo Fibre
1/2" Plush Micro Gel Foam
1/2" Firm Foam
2" Convoluted Comfort Foam
Flexatron Suport Pad
889 Continuous Coil with Reinforced Edge Support
UPC: 00843063131096
Warranty: 5 Year Non-Prorated
Innerspring: Continuous Coil Support System with reinforced edge support