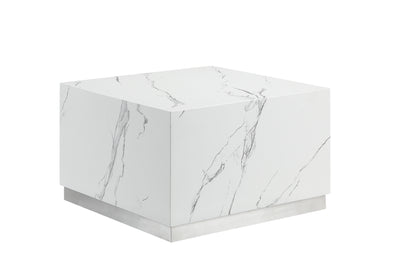 Helios 24" Square Coffee Table - White Marble and Silver
Product Dimensions: Height: 16", Length: 24", Width: 24",
Grandeur – not everyone can pull it off and that's why the Helios is not designed for just anyone. It's designed for someone who loves the look of clean marble in their home. Someone that thinks practicality should not come at the expense of style. Someone that appreciates a well-crafted contemporary design piece, that's more than just furniture. The Helios was designed for you. Give your home the grandeur it deserves with the Helios.
Product Dimensions: Height: 16", Length: 24", Width: 24",
Unique Features
Exquisite white faux marble finish with contrasting grey veining and brushed nickel stainless steel base -- can be used as bunching tables
Unique "solid" cube design
Casters hidden under base allow the table to be moved with ease
Polyurethane sealer and top coating adds subtle luster while making table more resistant to stains and scratches
Partial assembly required for casters
Care Instructions: Wipe clean with a soft, damp cloth, then use a dry one.
Use coasters or blotter to prevent stains or scratches.
Construction: Engineered wood, marble paper, and polyurethane coating
Stainless steel base with casters
Finish: White, Silver
Origin: Imported from China
Style: Modern
Warranty: One year from date of purchase against manufacturing defects under normal use. Replacement parts may be provided for damage due to shipping and handling.
Weight: 39.6 lbs