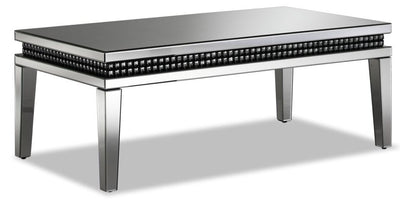 Harlow Coffee Table - Mirrored Glass
Product Dimensions: Depth: 28", Height: 18", Width: 48",
You have certain standards, and why shouldn't you? Somethings need to be perfectly curated, and your home is certainly one of those things. A reflection of your own taste and style, there's no reason your home shouldn't be as glamourous as you are. And that's exactly where the Harlow comes in. With its luxurious multi-tone crystals, surrounded by a mirrored glass frame the Harlow's captivating magnetism gives your home the touch of indulgence it's been missing.
Product Dimensions: Depth: 28", Height: 18", Width: 48",
Unique Features
Beautiful sleek lines and mirrored accents provide a luxurious touch. Add sparkle to any décor with this table and let it be the focial point in your living space.
The table features multi-toned crystal inlays with tapered refined legs for a light, airy touch and beautiful aestethtic that will spark up conversation in any room setting.
Mirrored table top provides ample room for use as a serving area or for display.
Quality craftsmanship ensures durability and long-lasting wear.
Some assembly is required.
Care Instructions: Wipe clean with a damp cloth and dry immediately.
Avoid strong cleaning solutions.
Construction: Mirror
MDF
Finish: Mirrored Glass
Origin: Imported from China
Style: Casual Contemporary
Warranty: One-year manufacturer warranty against defects in product and workmanship.
Weight: 67 lbs