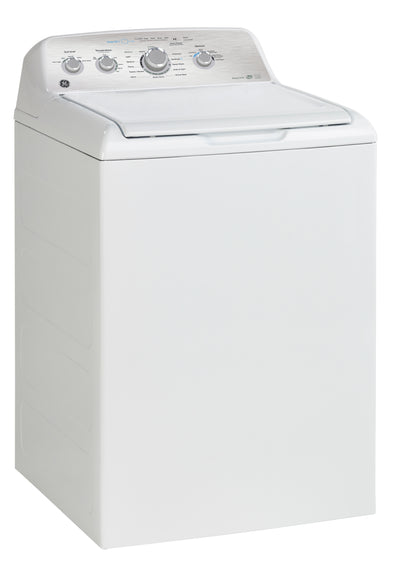 GE White Top-Load Washer with SaniFresh Cycle (5.0 Cu. Ft.) - GTW550BMRWS
Product Dimensions: Depth: 26.75", Height: 44", Width: 27",
Make laundry day quicker and easier with the high-efficiency design of this GE 5.0 cu. ft. top load washer. The large capacity can easily handle bulky loads and family-size laundry demands, while 14 different cycles give you the power to tackle a full range of fabrics and soil levels. 
Product Dimensions: Depth: 26.75", Height: 44", Width: 27",
Unique Features
Stainless steel basket - Long-lasting stainless steel finish resists rust and won't chip, peel or snag clothes.
SaniFresh cycle - this cycle uses elevated water temperature and a longer wash cycle to kill bacteria, and a pump purge and extended rinse removes contaminants.
5 water level selections - Select your preferred load size for the desired water level or let the machine automatically sense the load and add the amount of water needed to ensure great cleaning results.
Infuser Wash System - the mechanical action of the Infuser moves the clothes through the water and against the sides of the tub and down around the Infuser.
Deep Rinse - When selected, the deep rinse cycle ensures clothes are rinsed of soap residue and fabric softener.
Care Instructions: Follow directions in User Care Manual.
Finish: White
MPN: GTW550BMRWS
Product Details:
Top Load High Efficiency
Stainless Steel Basket
Wash Mechanism: Infuser
5.0 Cu. Ft. Capacity
14 Wash Cycles
5 Soil Levels
6 Temperature Levels
5 Options
800 RPM Spin Speed
Rotary-Electronic Control
UPC: 757638370127
Warranty: One-year limited warrant against manufacturer defects.
Weight: 114.86 lbs
Convenience Features:
Stainless Steel Basket
5 Soil Levels
6 Temperature Levels
SaniFresh cycle
Deep Fill
Extra Rinse
Extra Spin
Energy Star Certified
Washer Capacity: 5.0
Washer Cycles And Options:
Wash Cycles: Active Wear, Bulky Items, Jeans, Towels & Sheets, Whites-Heavy, Whites-Medium, Whites-Light, Colours-Heavy, Colours-Medium, Colours-Light, Delicates, SaniFresh, Speed Wash, Drain & Spin
Temperature Selections: Tap Cold, Cold, Cool, Colours, Warm, Hot
Soil Levels: Extra-light, Light, Normal, Heavy, Extra-Heavy
Options: Deep Fill, Extra Rinse, Extra Spin, 2nd Rinse & Extended Spin, Deep Rinse
Washer Features:
5.0 Cu. Ft. capacity
Stainless Steel Basket
14 Wash Cycles
5 Soil Levels
6 Temperature Levels
Wash Mechanism: Infuser
SaniFresh cycle
Deep Fill
Extra Rinse
Extra Spin
2nd Rinse & Extended Spin
Deep Rinse
Energy Star Certified