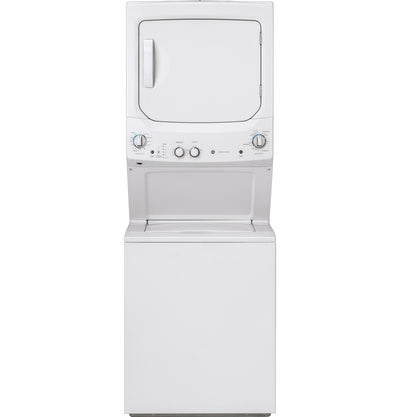 GE White Electric Laundry Centre - GUD27ESMMWW
Product Dimensions: Depth: 31", Height: 75.5", Width: 27",
Compact Laundry Centre. When you are short on space and storage, the last thing you want to do is take up limited floorspace with appliances. The GE Electric Laundry Center's compact washer and dryer is a great solution for condo and apartment dwellers. Since the GE stackable washer dryer is a single unit, it is the perfect apartment size washer dryer system. The Unitized Spacemaker Laundry Center features nine wash cycles and four dryer cycles so although it is compact you are not losing out on capabilities. On the dryer, there is a rear and left exhaust option to optimize the amount of spaces you are able to place your laundry center. This compact washer dyer contains auto load sensing meaning your washer can detect the right amount of water required to wash your laundry effectively. The dryer features a dewrinkle option so you can simply place any wrinkled clothing in your laundry center and save time and space by not having to iron your garments. This apartment size washer dryer comes with a one year manufacturer warranty. This warranty includes any labour required to repair the laundry center and a warranty on all parts of the appliance. This stacked washer and dryer comes will all hoses required so there is no need to purchase any additional packages. Save on space with the GE Electric Laundry Centre.
Product Dimensions: Depth: 31", Height: 75.5", Width: 27",
Unique Features
Although this washer is compact, it doesn't compromise on ability. This washer and dryer from GE has easy-to-use controls to select the best cycle for your laundry.
This single appliance contains an apartment size washer dryer that can easily fit into a closet. With the Quiet-By-Design engineering the quiet operation will not disturb you when living in a small space.
This stacked washer dryer solution features nine wash cycles and four heat selections. The variety of washing and drying options are convenient for any item of clothing in your wardrobe.
The GE compact washer and dryer contains a bleach and fabric softener dispenser that automatically mixes with the wash water to produce the perfect wash solution for your garments.
Capacity: 10.3 Cu. Ft.
Finish: White
Package includes: Laundry Centre, User Manual, hoses
Warranty: Limited 1 year manufacture warranty on entire appliance parts and labour.
Weight: 271 lbs
Dryer Capacity: 5.9
Dryer Cycles And Options:
Dry Cycles: 4
Temperature Selections: 6
Drying Levels: Cottons, delicates, easy care, timed dry, dewrinkle and quick fluff
Dryer Features:
Rear and left exhaust options
Timed dry
Easy care
Cottons
Dewrinkle
Washer Capacity: 4.4
Washer Cycles And Options:
Wash Cycles: 9
Temperature Selections: 6
Washer Features:
Rotary Electromechanical controls
Delicates cycle
Permanent press
830 RPM Max spin speed
Lint filter
Agitator
Stainless Steel Wash Basket