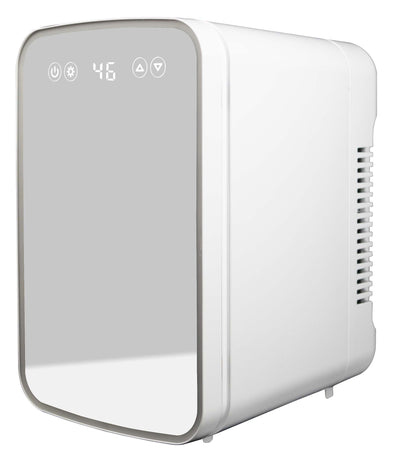 Danby White Mini Cosmetic Fridge with Mirror and Light (7.4 L) - DBMR02624WD43
Product Dimensions: Depth: 12", Height: 13.25", Width: 8.75",
Don't settle when it comes to your makeup and skincare, with the Danby Mini Cosmetic Fridge you can take your looks to the next level. Designed to keep your products at the exact right temperature, this Danby Cosmetic Fridge helps extend the life of your favourite products while making sure everything you put on your face is always properly cooled. From eye creams that work better chilled to facial tools that are more satisfying when they're cool to the touch, the Danby Mini Cosmetics Fridge has got you covered!
Product Dimensions: Depth: 12", Height: 13.25", Width: 8.75",
Unique Features
White Mini Makeup Fridge, perfect for storing skincare and makeup items.
Mirror front door with LED light and digital display, touch activated
7.4 L / 0.26 cu.ft capacity
Cooling 2-8ºC
Has an electronic thermostat
Care Instructions: Follow directions in usage care manual
Finish: White
MPN: DBMR02624WD43
UPC: 067638029834
Warranty: 12 Months P & L
Weight: 7.7 lbs