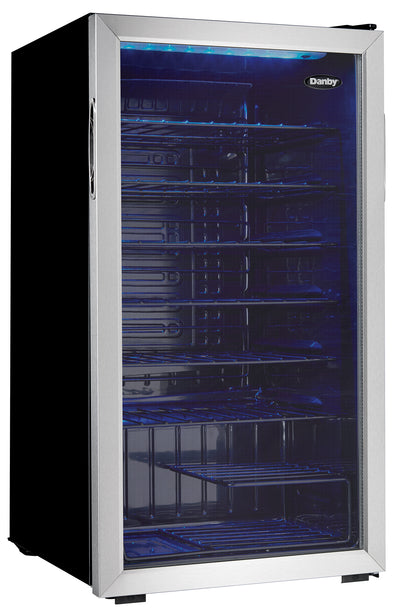 Danby Stainless 36 Bottle Wine Cooler (3.3 Cu. Ft.) - DWC036A1BSSDB-6
Product Dimensions: Depth: 19.75", Height: 33.25", Width: 17.5",
When you have several bottles of wine that need to be cooled, the most convenient and economical way to store them is in a fashionable free-standing wine cooler such as this model from Danby. This spacious unit offers 3.3 cubic feet of cooling space which is designed to store up to 36 bottles of your favorite wines on attractive black wire shelving units. Your collection will also look quite impressive due to the blue LED interior lighting which beautifully showcases the bottles through the elegant tempered-glass door. The bottles will always be at the temperature you prefer since the range of the wine cooler lies between 43°F and 57°F (6°C and 14°C). There's no incandescent bulb to interfere with the chilling process and the glass door is designed to protect your collection from potentially harmful ultraviolet rays. This appliance features a stylish recessed pocket-style handle and reversible door swing to allow you to open it from the left or right-hand side.
Product Dimensions: Depth: 19.75", Height: 33.25", Width: 17.5",
Unique Features
Keep up to 36 bottles of chilled wine on hand.
Suitable for red or white wines set temperature between 43°F - 57°F (6°C-14°C).
Showcase lighting illuminates the cabinet with Energy efficient blue LEDs.
Recessed pocket style handle.
Durable black wire shelves.
Care Instructions: Follow directions in Owner's Manual
Finish: Stainless Steel
MPN: DWC036A1BSSDB-6
Product Details:
Door Colour: Stainless Steel
Door: See Through Window
The tempered glass door helps to protect the wine from harmful UV rays.
Convenient reversible door swing for left or right hand opening.
UPC: 067638020022
Warranty: 12-months warranty on parts and labour. Installation and/or Yearly Maintenance (cleaning) are not covered under warranty.
Weight: 72.09 lbs
Refrigerator Capacity: 3.3